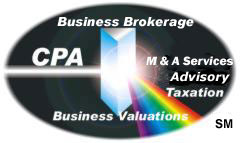 828-324-0709
Price = Cash + Terms
sm
Value = Income x Risk
sm
Contact Us
Business Brokerage
Certified Public Accountant
M&A Intermediary - Transaction Advisory - Buy Sell Business Transactions - Deal Services
For a seller to achieve the anticipated result from the sale of their business the transaction process must be professionally orchestrated. Deal risk must be carefully assessed. The process will rarely allow a second opportunity to get it right. The brokerage process constantly evolves, particularly during the negotiating, deal making, and document preparation stages. The highest price offer amount may not be the best overall deal. An objective opinion on our part serves the best interest of a seller. Our overall approach and brokerage skills are dedicated exclusively to the benefit of our client.
- Mergers & Acquisitions
- Transaction Advisory
- Transaction Tax Services
- Commercial & Business Valuations
- Medical & Professional Practice Valuations
- Seller Business Brokerage
- Buyer Business Brokerage
- Medical Practice Brokerage
- Print Resources
- Services Statement
- Link Resources
- Ownership Statement
- Your Protection
© 2005 - 2023 Christopher S. Whitener CPA. All Rights Reserved.